Cooperation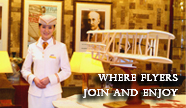 Brand Support
As the fifth largest airline's brand, Shenzhenair Hotel Management Co., Ltd. is selected into the Top 30 of China's hotel industry's largest hotel management companies. Introducing Shenzhenair Hotel Brand will make the hotel properties having a greater appreciation than comparable hotels. Shenzhenair Hotel Management Co., Ltd., with main business advertising and our own media resources, provides continuous and obvious consultant's recommendations of promotion. Aircraft magazines, aircraft television, website, boarding passes, flight schedules and "Shenzhen Airlines Hotel" quarterly, cross-hotel advertising and other advertising resources can all help our member hotels' promotion.
Market Places
The central reservation system on official website can achieve a real-time booking, information verification and network distribution functions; 400 call center can provide more convenient and efficient business travel experience. Shenzhen Airlines frequent flyer program, 300 million high-end customers resources and miles exchange can be shared through Shenzhenair Hotels Group official website,400 call center, Shenzhen Airlines Travel Network, Shenzhen Airlines Distributor Network. We also can share marketing network and airport windows with Shenzhen Airlines; we have preferential use of advertising media resources and cooperate with Shenzhen Airlines Agency to attract tourist groups and participate in "Flight + Hotel" joint promotional activities.
Human Resources
Our sound human resource management and training system as well as rich experience in human reserve, talent recruitment and staff training, have access to hotel personnel markets and achieve a solid foundation of human mode replication. By paying higher than the industry average standard, closely associating effective performance appraisal with operation, management and competitive benefits, we have attracted and retained a large number of high-quality personnel, and have won many awards in the domestic hotel industry skills competition. Our hotels in Shenzhen, Beijing and other cities are ideal training bases for all levels of staff. Through years of accumulation and precipitation, we have a team of prestigious senior experts and consultants, who can offer professional and comprehensive consultancy management services. By establishing multi-level strategic cooperation with institutions at home and abroad, we can provide a broader human resources choice in project management, technology, marketing and services for member hotels.
Mature Model
Our management consists of three major parts: management system, service system and monitoring system. By expatriate team's importing, the central platform support, regular consolation guidance and financial quality control, we can ensure the brand image be fully replicated to every member hotel, and the management norms can be set up.